July 3rd, 2013
Posted in
Contests and Giveaways
Congratulations to Elisabeth Good, who is the winner of our Samsung Galaxy Tab 2 giveaway. Elisabeth is from Carrollton, Georgia and found about our giveaway via slickdeals.net. She enjoys reading about health and nutrition, and spends way too much time on Pinterest! Elisabeth also loves to read ramshackleglam.com/blog and look for deals online.
As she normally spends at least 2 hours a day browsing  the Internet, it's important to her for websites to load fast.
"There's nothing more annoying than a website crashing! If a website is taking too long to load, especially if it's bogged down by tons of images, I tend to just move on," she said.
We hope she would find her new gadget entertaining. What's more, she can browse her favorite websites and find deals from the convenience of anywhere!
Stay tuned for our next giveaway. In the meantime, check out our blog – you may find some useful information especially if you have a website and care for it is up 24/7.
June 7th, 2013
Posted in
Contests and Giveaways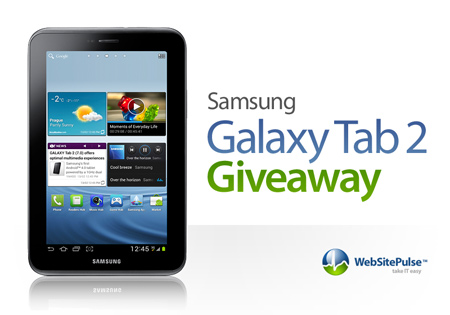 We are geeks. We do software and tools, but we are also social and love the good conversation. So, we'd love for you to become a part of it. The more, the merrier.
To celebrate yours and our passion for being social geeks, we'd like to give away Samsung Galaxy Tab 2! Because it's light. And you don't have to stop The Conversation wherever you go! And to thank you for joining our Web circle.
The contest
1. Register for the contest via your email address or Facebook profile
2. Follow, tweet, comment, like, +1, answer a question or recommend the contest to another participant. Every action is an entry. The more the entries, the bigger your chances to win.
3.Why wait?
The winner
On July  1st, 2013 we will announce the winner who will be notified via e-mail. If s/he replies within 3 days after the contest ends, we ship the Samsung Galaxy Tab 2 and the winner will have it in up to a week. If, however, s/he does not reply within 3 days after the end of the contest, we select another winner. So be alert.
Disclaimer
By participating in this contest via your email address, you agree your email address to be used for future marketing activities by WebSitePulse.