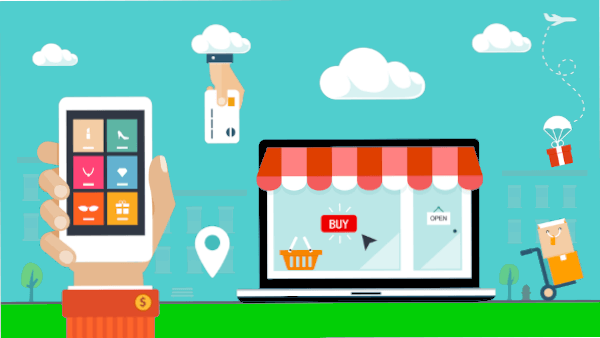 There is a huge difference between shopping at an actual store and shopping online.
The tactile experience of wandering through an actual store, handling the products, and chatting with store associates about your interests creates memorable and engaging experiences. Even watching other people make similar decisions, trying on certain clothes, or crowding certain displays are experiences unique to physical stores.
By comparison, shopping online is often impersonal and limited.
While the trend towards online shopping in recent years is significant (with physical stores closing down at a rapid rate), there are entirely new challenges that online stores face. Engaging potential or returning customers in genuine, human ways isn't easy at all. Solid, in-house content marketing or the right e-commerce sales hack can help solve this problem.
Points of friction with online shopping can create a cold, impersonal experience and negatively impact sales. One way to eliminate that friction is to learn how in-store shopping experiences provide a human element to drive sales.
First, monitor your website
Before you experiment with some of the tactics I want to mention, you want to optimize your site's performance. It's essential to monitor your e-commerce website, and understand how your customers interact with different products and pages, and what improvements you need to make.
Ask yourself a few questions.
Are you leveraging your happy customers? Do you encourage them to write reviews for products they're satisfied with?
Is your site running without any issues? Is it slow, or does it inexplicably crash? Slow load times, broken experiences, 404 errors, and similar things will only lose you customers. With a simple site audit, you can drill down where and when they happen in order to resolve them.
Once you've laid down that groundwork, you're in a better position to start experimenting.
So how can websites create experiences similar to brick-and-mortar stores? Successful brands use many approaches, including:
Personalization
Fostering commitment
Providing product demos
Best of all, since these four are accessible to online stores of any size and relatively easy to implement, you can get started today.
Let's explore each one.
Personalization
Personalization is about using information you've gathered on your customers to help them find what they want — sometimes before they know they want it.
Whether it's marketing, advertising, or just engaging your audience, personalization is a growing trend. People want to feel special and understood.
In retail stores with exceptional service, you will get an experience intended for you.
Not too long ago, I was in desperate need of a suit for a wedding, plus the accessories. The toughest part was finding a decent bow-tie. I wandered into my sixth store that day, a few hours into my hunt when a well-dressed associate approached me. I showed him my suit and told him I needed a bow tie.
He disappeared and reappeared with a vibrant, pink-purple paisley bow tie. I looked at the price tag and shared my hesitation. He shrugged and left it by the checkout counter before attending to another customer. I went through every other bow tie in the store, but none of them compared to the paisley bow-tie the associate had shown me. I purchased it and went on my way.
Clearly the associate knew what I wanted before I did. Why?
He understood his customer.
He knew it was the wedding season. He saw that my suit's style was evening formal and a little on the flashier side. He must have successfully matched similar style bow ties with suits like my own in the past. So through experience and observation, he had formed a specific user persona in which I fit.
With that persona in mind, he accurately anticipated my needs and provided a personalized experience for me.
Personalization is a compelling psychological trigger because it demonstrates that you (as a business) understand your customers. In fact, you understand them so well that you can quickly connect them to the solutions they need. When a customer feels understood, you've won them over because they realize that your solutions are specifically for them.
Case in point: Tesco

Tesco is an online brand that does this well. Tesco uses its customers' purchasing data to remember their favorite products, so they can easily purchase things they already like.
The user is presented with a graphic chart of items that they have regularly purchased, meaning they can skip having to find products, and add them directly to their cart. It's a tiny function, but Tesco reduces a few points of friction in the purchasing process, making it far more convenient. It's a user experience that keeps customers coming back.
Case in point: Naked Wines
Naked Wines is another brand that personalizes the online experience for its customers. New visitors see a unique landing page intended to win them over. Customers that are logged in are addressed directly by name in messages throughout the site.
It means a lot to customers when you personalize experiences for them. It says you've thought a lot about who they are and designed a shopping experience that revolves around them.
Fostering Commitment
Commitment is a funny thing and takes many different forms.
Commitment can be financial. Once you've booked a flight, you're not getting that money back, so it's very likely you're getting on that plane.
Commitment can also be written. Once you've signed a lease, you're more or less legally obligated to pay your rent for the next year.
Commitments can also take the form of time.
For example, once you enter a store, sales associates are encouraged to engage you. More than that, they want to keep you in the store, so they'll find products to show you, they'll let you interact with their products, they'll answer your questions, and more. Then once you've spent more time in the store engaging with the products and staff, are you going to do it all again at a ton of other stores to find the perfect product? Or, if it feels right enough, will you go ahead and make that purchase?
It's very likely you'll make that purchase.
Online stores can put this tactic into practice as well, and efficiently.
Warby Parker is a prescription eyeglasses retailer. With limited retail locations, they run a very engaging online store. They know if you can experience their products, try them out, have a chance to fall in love with them, enjoy them, you're highly likely to buy them and keep them.
So they make it as easy as possible to do just that.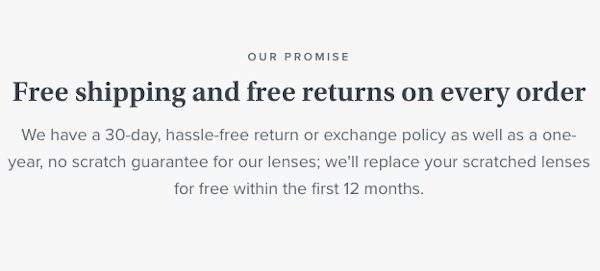 You can order Warby Parker frames online just to sample them without any financial commitment. You get to take your time trying them out, seeing if they work with your current sense of fashion, and how they feel on your face. If they're perfect, you're bound to purchase them. If not, you'll likely try a few other pairs until you get one work since there's no risk.
Providing product demos
If you've ever wandered around in an electronic's store, you can appreciate the power of demo-ing products. I can hang out in front of flat-screen smart TVs all day watching movies, browsing the internet, going on YouTube, or pairing it with my Spotify app and playing music.
Once an associate wanders over, he can tell me about what makes the different TVs unique and special. And then I can watch him/her show me how it works and whatever else they can do (maybe order a pizza) that I might not know.
More recently, online stores with unique products have started to include short product demos that tell customers how they would get started with a product, how they can set it up, or just to showcase its durability.
Case in point: Kelty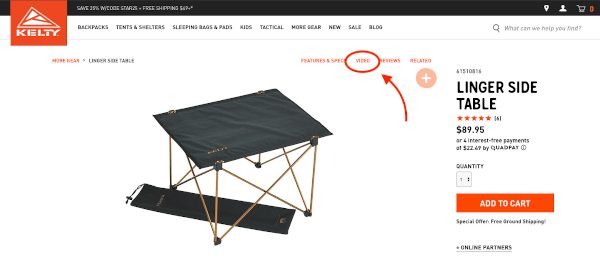 Kelty is an outdoor equipment store and products like the Linger Side Table have short, instructive product demos for customers. What's great about the product demos is that people not only learn about how to set it up, but how easy it is to do in real-time. Videos like these don't require a ton of effort to create or professional actors, either.
Case in Point: Skiphop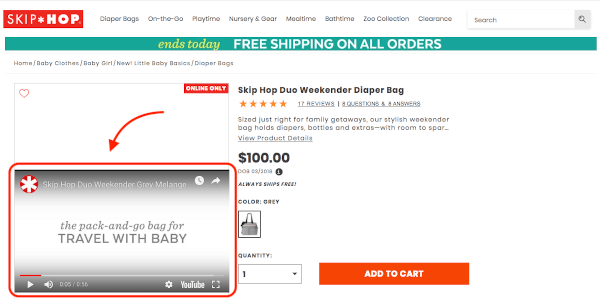 Skiphop's a brand for all sorts of baby stuff - toys, apparel, furniture, and even bags. Skiphop includes demos for certain items like their bags for carrying baby gear. The demo is great because it shows how many things the bag can actually fit. With an actual person lugging it around in the video, you can get a sense of how it looks on people as well.
Sharing product videos on how to set something up, how it works, what it can do tells your customers exactly what they want to know. Plus, if it's something that requires assembly, or has a ton of neat features, it shares information a consumer might look for in the reviews or FAQ section.
Over to you
At the end of the day, most purchase decisions are emotional. Consumers simply want things that'll enrich their lives (and make them feel good) in some way or another. When your online store demonstrates an understanding of your customers' thought processes, they're bound to feel that you genuinely know them and care about their shopping experience.
When that moment occurs, when your site offers an experience that's valuable and reassuring to your customers (especially when competitors don't), you've won them over.
So what are your thoughts on these approaches to increasing sales? Have you come across any brands lately that have impressed with their e-commerce websites? Have you done anything on your own site lately that proved to generate more sales?
Let me know in the comments!