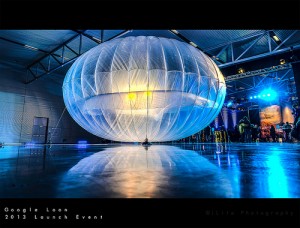 Connecting people to the internet creates more potential users of various web-based services, and more internet users would, in turn, create more potential customers for online marketplaces and more business-based need for online advertising. More than half the world's population does not use the internet, especially in developing nations and emerging markets, and Google plans to change that by the end of the decade. Naturally Google would want more businesses to opt in to Google's online advertising, as the search engine behemoth currently derives 87% of its over $50,000,000,000 in total annual revenue from selling online advertisements. (That would be fifty billion dollars; the zeroes were added for the "wow" factor to emphasize Google's obscene yearly revenue.)
Eric Schmidt, Chairman of Google, stated in a tweet on April 13th, "For every person online, there are two that are not. By the end of the decade, everyone on Earth will be connected." While some view this tweet as inexplicable and mysteriously directed at Google's secret laboratory's future-tech projects and goals, others see it as a prelude to Google's goal to encircle the globe with zeppelins much more benign than those deployed by the Third Reich. The search engine giant's recent high-altitude technological endeavors only serve to underscore the company's apparent aim of having control over every aspect of a person's connection to the internet on a global scale.
So what is Google doing that involves a fleet of technologically advanced hot air balloons, and how exactly does it impact internet accessibility and wireless communications around the globe? Google is using previously developed technology, Google-fying it with their own updates and revisions, and deploying it to provide wireless internet access to areas around the world that are lagging far behind in the connectivity marathon.
Google's undertaking, named Project Loon, is using high-altitude balloons to form a stratospheric network of communications relays that would - if successful - allow wireless internet connectivity to be streamed to areas that are so remote or far-flung that they do not have other access alternatives. In theory, the wireless signal would bounce from antenna on the ground to the balloons, through the network of balloons, and back down to the ground to a special receiver that gives the user wireless access to the internet.
Balloons have been in use for years to facilitate wireless communication, so this is not a new or futuristic technology by any means. Engineer Steven Crowley consulted for the U.S. government roughly two decades ago when Uncle Sam was utilizing balloon-based technology to broadcast anti-Castro propaganda to Cuba via a U.S.-financed television station. Balloon-based transmission was chosen over other options such as broadcasting from a plane cruising back and forth over the ocean or beaming signals from a barge parked in international waters.
The United States military uses balloon-based communications for a variety of operations, including transmission of encrypted data to troops on field missions. Space Data, a company that Google considered partnering with or buying outright in 2008, has been providing these balloon-based communication networks for the military for years.
Earlier in June 2013, Google launched nearly three dozen balloons over New Zealand and selected a bevy of beta testers to see how well their design will perform in a real-world scenario. Those who are confident the system will perform as expected state that the actual pitfalls to providing internet services on a global scale are not connectivity issues but rather issues that are common to any developing country - a lack of wireless-compatible devices, illiteracy, language barriers, and insufficient technological knowledge to use the tools necessary to access the internet.
While some of us sit on the fence with regard to what Schmidt's tweetings and Google's aerial antics may really mean, and whether or not the trial runs will meet with success or failure, others among us visualize an unspoken but far loftier goal for the Big G, and it can be succinctly summed up in the following dialog:
Pinky: So what're we gonna do today, Brain?
Brain: The same thing we do every day, Pinky...try to take over the world!
Over a decade ago, a European organization attempted to send antenna-laden balloons into the stratosphere in an effort to blanket the world with wireless connectivity, and Lockheed Martin and SoftBank/Japan have performed some experimental testing in more recent years. Will Google's high-flying endeavor be successful? Only time, and the results of their trial runs currently underway in New Zealand, will tell.