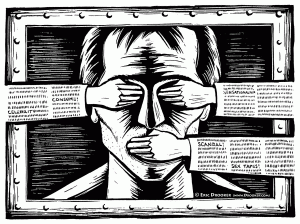 Internet users in the United States often take for granted their "right to freedom of speech," sometimes flagrantly abusing that right just to make a point, express their controversial views, or launch an attack against another person or idea. But do they realize how "free" that right really is, compared with any freedoms citizens of other countries may have?
In the cyber-era we live in today, it is indefinably easy to share thoughts and ideas, criticisms and compliments, videos and blogs - with just a few clicks on our keyboard. In seconds, what we have to say or what we want to show is out there in cyberspace for the world to see...or is it?
One of the most dominant presences in cyberspace, Google, produces a periodic (every six months) Transparency Report that details, among other things:
Real-time and historical traffic to Google services worldwide;
Number of requests for content removal Google receives from governments and copyright owners; and
Number of requests for personal user data Google receives from courts and governments.
The United States submitted approximately 1/4 of all requests (3,500 out of 12,000) for private data on registered Google users in late 2009, and that number has increased to over 1/3 (8,400 out of 21,000) in late 2012.
With regard to government-issued content removal requests worldwide, over 30% of these requests since July 2010 have been for alleged defamation, while all other cited reasons for the requests take up substantially less than 10% each (privacy and security, piracy, hate crimes, etc.). Additionally, some countries have either temporarily or permanently banned some or all of Google's products and services in those countries, preventing their citizens from having access to what other people regularly use throughout their normal daily routines. For example, in China, YouTube, Picasa Web Albums, and Google sites have been banned since 2009; Iran has banned YouTube since 2009 and has temporarily banned other Google services at various times over the past 4 years; Morocco has banned GoogleEarth since 2009; Pakistan permanently banned YouTube in September 2012; Turkey has banned all Google sites since 2009 as well as Facebook due to the recent protests.
Social media heavy-hitter Twitter has its own Transparency Report keeping track of user information requests, content removal requests, and copyright violation notices. The United States, of course, leads the way in requesting private information about registered Twitter users, with 815 out of 1,009 requests for the second half of 2012.
Chilling Effects' website also provides information on Internet censorship worldwide (primarily the United States, since it is one of the most vocal opponents of freedom of speech in cyberspace), and one of their key focuses is cease and desist or "takedown" notices, as well as alleged copyright violations.
News relevant to censorship in various places around the world includes:
Russia has begun taking an active part in blocking internet content deemed "illegal or harmful to children," but it makes one wonder who is doing the decision-making and why that government, along with so many others (including the oh-so-free United States) considers itself the superior authority, instead of parents, when it comes to deciding what children should or shouldn't be exposed to.
In October 2012, Twitter began using geolocation methods for blocking specific tweets in specific locations (Germany and France), to maintain conformity with the laws of the countries in which Twitter is being used, despite Twitter's homebase being in the United States and the U.S. regulations governing the social media outlet's actions.
Over 1.5 million education blog user accounts were taken offline in the U.S. because a 5-year-old blog post contained a 20 question survey published over 35 years ago, and copyright holder (and textbook publisher) Pearson felt that squashing over a million accounts was a more prudent action than garnering free publicity for their product line with an obscure and practically unheard of minor indexing system for measuring adolescent depression.
In 2010, ThinkGeek received a cease and desist from the National Pork Board for ThinkGeek's product, Canned Unicorn Meat (which was, in actuality, an April Fool's Day gag). The reason? ThinkGeek used the slogan, "the NEW white meat," which is similar to the Pork Board's trademarked tagline ("the other white meat"). Apparently, the National Pork Board's attorneys think consumers can't tell the difference between unicorns and pigs and that they, in fact, don't know that unicorns are mythical (i.e., nonexistent) creatures.
Online censorship is everywhere, and for any reason you can think of. No post, tweet, blog, picture, video, or activity is safe - least of all in the countries you think you're safest in.
See Freedom of the Press WorldWide in 2013.
More than 2600 websites are blocked by China Firewall. Do you know if yours is blocked too? Find out via our free test tool.