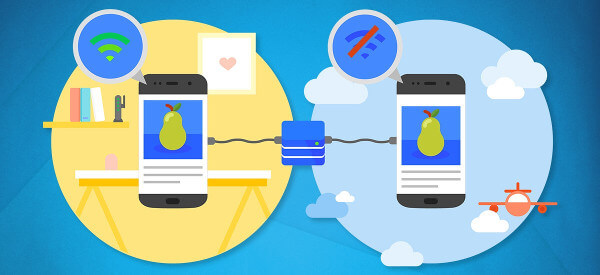 Progressive Web Apps (PWAs) vs. Native Apps is a hot topic of debate in the market. Everyone is sharing their thoughts on what is similar in both the app types, which makes them apart and will rule the market in the future. I'm sure you will also have your points noted in a notebook to speak on this topic.
But, do you have enough to discuss Progressive Web Apps vs. Regular Web Apps? Do you know what makes PWAs differ from regular web apps? If not, this article will be a good read for you. Here we will look into what a Regular Web App is and what a Progressive Web App is and discuss their significant differences and future predictions.
Regular Web App
A regular web app, in simpler terms, is a website that is designed to be accessible on all mobile devices such that the content gets fit as per the device screen. It is designed using a web technology stack (HTML, CSS, JavaScript, Ruby, etc.) and operates via a browser. They offer various native-device features and functionalities. However, it entirely depends on the browser the user is using. In other words, it might be possible that you can access a native-device feature on Chrome but not on Safari or Mozilla Firefox because the browsers are incompatible with that feature.
Progressive Web App
Progressive Web App (PWA) is a regular web app, but some extras enable it to deliver an excellent user experience. It is a perfect blend of desktop and mobile application experience to give both platforms to the end-users.
Now, as you have an idea of what the terms Regular Web App and Progressive Web App (PWA) mean, let's jump directly into the features that make PWAs different from the traditional web apps:
PWAs vs. Regular Web Apps: What's the Difference?
A Progressive Web is different and better than a Regular Web app with features like:
1. Native Experience
Though a PWA runs on web technologies (HTML, CSS, JavaScript) like a Regular web app, it gives user experience like a native mobile application. It can use most native device features, including push notifications, without relying on the browser or any other entity. It offers a seamless and integrated user experience that it is quite tough for one to differentiate between a PWA and a Native application by considering its look and feel.
2. Ease of Access
Unlike other mobile apps, PWAs do not demand longer download time and make memory space available for installing the applications. The PWAs can be shared and installed by a link, which cuts down the number of steps to install and use. These applications can easily keep an app icon on the user's home screen, making the app easily accessible to the users and helps the brands remain in the users' minds, and improving the chances of interaction.
3. Faster Services
PWAs can cache the data and serve the user with text stylesheets, images, and other web content even before the page loads completely. This lowers the waiting time for the end-users and helps the brands improve the user engagement and retention rate, which eventually adds value to their business.
4. Engaging Approach
As already shared, the PWAs can employ push notifications and other native device features more efficiently. Their interaction does not depend on the browser user uses. This eventually improves the chances of notifying the user regarding your services, offers, and other options related to your brand and keeping them hooked to your brand. In simpler words, PWAs let you maintain the user engagement and retention rate.
5. Updated Real-Time Data Access
Another plus point of PWAs is that these apps get updated on their own. They do not demand the end-users to go to the App Store or other such platforms to download the update and wait until installed.
In this app type, the web app developers can push the live update from the server, which reaches the apps residing on the user's devices automatically. Therefore, it is easier for the mobile app developer to provide the best of the updated functionalities and services to the end-users without forcing them to update their app.
6. Discoverable
PWAs reside in web browsers. This implies higher chances of optimizing them as per the Search Engine Optimization (SEO) criteria and improving the Google rankings like that in websites and other web apps.
7. Lower Development Cost
Progressive web apps can be installed on the user device like a native device, but it does not demand submission on an App Store. This makes it far cost-effective than native mobile applications while offering the same set of functionalities.
Besides, this escape from App Store submission also enables the brands to quickly enter the market and earn higher ROI.
Now, as you know, what is PWA, and what makes it better than a regular web app, what's next? Wondering if PWA is popular in the market or not?
As per the market research, 87% of the digital market experience relies on these web applications. Since PWAs are the better version of web apps, investing in PWA development is a profitable decision.
Various reputed brands Uber, Instagram, Pinterest, Trivago, Starbucks, and Twitter lite, have invested in developing and are enjoying the best perks of the opportunity. For example, Twitter Lite observed a significant rise of 65% in pages per session and decreased by 20% in bounce rate by switching to Progressive web application. Alibaba revealed 76% more conversions on the mobile web, with a rise of 30% and 14% in the monthly active users (MAU) on Android and iOS platforms, respectively.
Also, Google was planning to replace Chrome Apps with PWAs by the end of 2018. This is a clear indication that PWAs will definitely have a broader market in the future, which implies developing a PWA is a thoughtful and profitable act.