There are currently 121 existing submarine communication cable systems with 25 more planned for the next few years. That sounds like a lot but actually, they are way more than this. 121 is the number of all currently functioning underwater communication cables.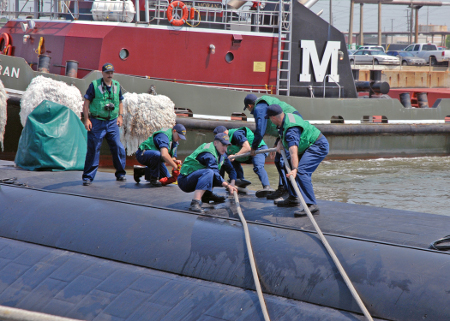 Image courtesy: navy.mil
The first operational submarine cable was laid down in 1851. It connected Great Britain and France. The next notable cable system was the transatlantic copper cable, laid between Newfoundland and Ireland. Since then, hundreds of communication cables have been laid on the ocean floor. FLAG, or Fiber optic Link Around the Globe, is one of the most noticeable submarine cable systems. It is 28,000 kilometers long and it is comprised of 4 segments. Its Europe-Asia segment is by far the fourth longest cable in the world. In order for the technology to work erbium-doped fiber amplifiers are installed every 50 kilometers.
Technology came a long way since the pioneer days of copper cables with hemp and tar insulation. Since then, each successive technological advancement has reduced the overall costs and improved the quality and availability of international cable systems. The cost continues to go down while capacities continue to meet the growing bandwidth needs. The increasing demand is generated mostly by the growing need for faster data transfer. In comparison, voice service doesn't change in demand a lot. But what happens to obsolete systems? It is not uncommon for obsolete underwater lines, which are no longer used for commercial purposes, to be used for scientific studies.
Submarine cables take amazingly little time to repair. When detected, a cable failure can be fixed in about 8 hours! The technology allowing cable problem detection is called Brillouin Optical Time Domain Reflectometry. This technology provides very high precision when detecting a cable fault. The video below visualizes how to repair operations are carried out.
How undersea cables are repaired map
Repairs begin with failure detection. The sooner you know where the problem is, the sooner you will be able to remove it. Find out if your sites are not performing as expected in certain geographical locations. Try 30 Day Free Website Monitoring.