Enterprises have started adopting mobile technologies as desktop solutions or web applications do not satisfy the needs of enterprises anymore. Majority of employees in large organizations are taking their own devices to work, and their IT teams are charged to find a way to set up and implement smart BYOD standards.
Although there are several obstacles to enterprise adoption of mobile apps, the need of the employees forces enterprises to opt for mobile solutions. The post-PC future envisioned by Steve Jobs is knocking at our door, and mobility solutions are the need of the hour. So, if you are a mobile developer, you will, sooner rather than later, work on mobile apps for enterprises.
Most mobile developers are used to creating apps for the app stores. But when you work on internal mobile apps for large businesses, all that you have learned earlier will not be of much use. The needs of every single enterprise will differ, and you will have to put on your thinking hat and find solutions to their specific concerns.
There are several challenges that will make developing that first app difficult:
Multi-platform Compatibility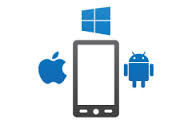 This should not be your headache, but it will become at some point. While some enterprises will let its employees use only one mobile platform, most use multiple platforms. If the company has implemented BYOD, you may need to create an app for a vast array of devices and mobile operating systems.
As a mobile development company providing the services, you need to analyze and decide the approach: is it worth the time to create separate versions of the app for different operating systems, or should you use HTML to create native apps? When you consider that most enterprise mobile apps will be more complicated than the projects you usually handle, you may get an anxiety attack.
Back-end Integration
Most business organizations already have a complex IT infrastructure. The mobile applications that you are building for them are just an icing on their cakes. Most of the times, your app is not replacing any back-end system – it is simply augmenting the existing infrastructure by providing mobility. This will require complex cross-platform coding and an in-depth understanding of the client's business processes.
Mobile developers who do not possess domain knowledge will face a very steep learning curve. Not only will you need expertise in a different sort of programming, but you will also have to spend more time understanding the client's existing IT infrastructure.
Crazy Deadlines
Developing desktop or web apps for enterprises is a long-term process: software developers take months or years to create one large-scale enterprise app. But if you are creating a mobile app, people expect you to get it done within a few weeks. Most mobile developers, however, will need to spend a lot of time understanding the client's requirements and conceptualizing an app that can provide the perfect solution.
Add development and integration to it, and you will realize that you need a lot of time. Collaboration with the client's IT team and other project stakeholders may also be necessary. The only way you can cope with the workload is by using agile methodologies. And if it is your first time, you are going to have a wild time!
To wrap it up
Platform-compatibility, back-end integration and difficult deadlines are just the major challenges you will face. Finding out ways to secure the app, helping the client deploy it and testing the app will also take a lot of focus, effort and expertise. Best of luck!