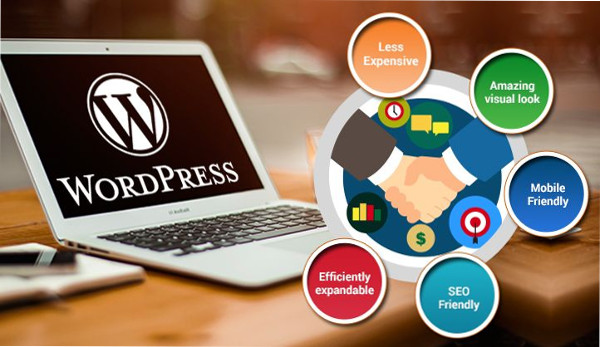 So you are planning to start a new website to promote your business? But have you prepared yourself to invest in building a site from scratch? It is essential to know that be it the e-commerce business or service-based site, creating a website from scratch requires good time and money investment. But when you have WordPress, a popular CMS (Content Management System) platform, why spend extra money building a site from scratch.
According to this study, WordPress runs 32% of the entire internet and presently has more than 19.5 million websites running under this CMS platform. Some of the top sites worldwide run on WordPress. This includes- USA Today, CNN, Time.com, National Post, etc. More precisely, there are 17 posts published every second on WordPress sites, making it the most preferred CMS platform.
There are two categories in which businesses fall into:
One which doesn't have a website and doesn't have the budget to invest in the website
They have their website but aren't helping to push their business. It is because they aren't using the right tools to promote.
This is when WordPress comes to the role, increasing the demand for selecting the right WordPress development company. A reputed company offering WordPress Development service works on every aspect of developing a site helping the business to reach out to the target audience. Moreover, using the right tools and proper content development planning will strike a balance between cost and promotion. Since WordPress web hosting is an inexpensive platform, small business owners can manage it efficiently.
Let us now check 11 such benefits business owners can have building a website on WordPress:
1. A Vibrant Marketplace for Business
The platform has thousands of top-quality free and premium themes and plugins that suit your business product or service. Customers and visitors, when visiting your site, the first thing that comes to their notice is the design that catches their attention. If your website fails to do so, you may lose potential customers. So selecting from the vibrant market of themes and plugins, businesses can benefit from it.
2. Customization is Easier
Custom WordPress Development services benefit from using this platform because of the easier customization. Everything is manageable from the design to the backend if the theme is a paid version. Whether it is SEO, content management, or placing ads, WordPress offers easy customization for its users, eventually benefiting the website's ranking.
3. Proper usage of SEO
WordPress is SEO friendly and has well-coded themes helping to build a search engine-friendly site. For instance, you will find several WordPress SEO Plugins allowing you to optimize content manually and automatically. Additionally, there are tools available helping to add rich snippets, further enhancing the search engine listing. In simple words, WordPress enables the developer to create an SEO properly, boosting the site ranking.
4. Built-in Blog Capability
WordPress blogs are common and straightforward to use and share. Business websites using WordPress can implement a blogging section to promote existing and new services. If the company has its content management team, then creating keyword-rich content and posting it on the blogging part will help get more target audiences.
5. User-Friendly Development
WordPress has genetic coding themes, user-friendly plugins, and easy-to-maintain features that make its components developers-friendly. Any good WordPress development company has expert developers and can efficiently manage WordPress sites.
6. Reliable to Use
Multiple people can manage a WordPress site simultaneously, led by expert coders, who test the site for smooth functioning. That allows the website has to run without any error and should be quick enough to help in fast browsing. WordPress-built websites are highly reliable, making the platform business and user-friendly.
7. The Most Secure Platform
Many cases of website information getting breached, which invited colossal loss to the business. For instance, an e-commerce site with millions of customers and their data can be vulnerable to hackers, resulting in data loss and customer trust. Since WordPress is the most widely used CMS platform, coders and WordPress development services work hard to keep every site theft-free. Web developers can use modern techniques and tools to prevent the WordPress website from getting hacked.
8. Mobile Friendly
This is the most significant benefit any business can have to run a website built on WordPress. According to the statistics, the global population using mobile until January 2018 has reached 3.7 billion. Moreover, there is an increase of 51.2 percent in the use of mobile web surfing. Today, more and more smartphone users use mobile internet to browse and shop. Since WordPress sites are mobile-friendly, businesses can benefit from getting traffic out of them. There are hundreds of themes and plugins for WordPress that are mobile-friendly and help create responsive websites.
9. Supports Teamwork
The Business-centric WordPress website needs a team for coding and support. This will help to manage the site from every perspective. The best thing about WordPress is it gives users the ability to work simultaneously on the website with different permissions. They can also support many plugins to make things organized and easy to use. Proper organizing of the site makes it easy to create content and monitor.
10. Huge Community of Developers
Since WordPress is the most prominent CMS for content, there is a vast community with developers and designers working towards the seamless work of the WordPress sites. Businesses can hire WordPress developers all around the World to manage their sites if got stuck due to hacking or due to backend issues. If the company's budget is reasonable, then hiring an in-house team of developers is also an option.
11. The Scalability Benefit of WordPress
Many organizations building websites on WordPress feel that they need to spend money to get a more professional team. But the good thing is WordPress grows along with the companies using it. Whether the company is a startup or an established one, WordPress has a broader reach and serves around 23 billion pages spread over millions of websites.
Conclusion
There are no second thoughts that WordPress is a user-friendly Custom Management System and the most affordable investment for an online business. Running a website built on WordPress is a good investment in the long term. The best thing about WordPress is many professional coders and developers are backing it to work seamlessly. Whether your business belongs to e-commerce or e-learning, hiring experienced WordPress developers is a long-term positive investment you can have.
It is free, cost-effective, and regularly updated; therefore, the website remains up-to-date. Since top e-commerce and tech companies are running their site on WordPress, you can rest assured that your website will rank ahead without much of an investment.