Page 23
Posted on August 8th, 2013 by Boyana Peeva in
Tech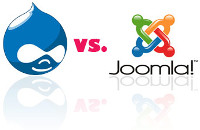 When it comes to managing all of your content needs, there are several platforms out there available to you. It doesn't matter if you need to manage several different authors writing all sorts of content or simply need a management system to keep track of everything as a small business. There are two in particular that have become quite popular: Drupal and Joomla. How exactly do they compare to one another as content management systems and why should you choose one over the other?
What is Drupal and Joomla?
If you ever worked with or seen WordPress then you already have a basic understanding of Drupal and Joomla. Both of them are known as a CMS, or Content Management System. However, both are unique in that they are completely open source and used by even huge brands and websites with thousands or millions of daily unique impressions. Some of the most prominent websites to use Drupal include Stanford University, Turner Broadcasting, and even the official website for the White House while major websites like Citibank, Harvard University, and IHOP use Joomla.
Read more...