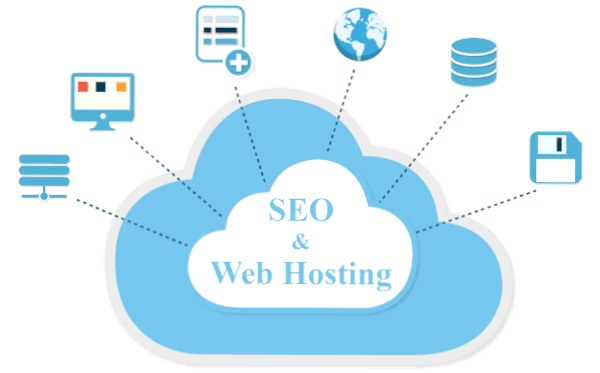 If you're looking to start a website, the first thing you'll need to do is choose a web hosting service. However, all web hosts are not created equal, and the abundance of choice often paralyzes newcomers to the online space. How do you know which hosting service to choose?
This article will explore the relationship between web hosting and search engine optimization (SEO) and how you can choose the most SEO-friendly host.
What Is Web Hosting?
At its most basic level, a web hosting service is simply a place to upload and store files related to your website on a server. In other words, your site's physical area on the Internet and online storage save the data, pictures, video, and the like. When someone browses your website, the server receives the request and sends the relevant files to that person's Internet browser.
Some companies host their website on their own servers, but most rely on third-party hosting providers. According to the Hosting Tribunal, there are over 330,000 hosting providers worldwide.
Some of these providers also provide domain name registration services, allowing you to choose the name and purchase the unique URL for your website.
Pro tip: use a domain appraisal service to check a domain's value before buying. This will ensure you don't pay too much.
Web Hosting & SEO: The Relationship
Search engine optimization, or SEO, refers to the steps you take to improve your website's position on search engines' results pages such as Google, Yahoo, Bing, etc. It is a vast and complex field, and many factors determine a site's SEO performance.
Your web host choice is a significant factor in determining the user experience your website visitors will receive. A great web host will reduce your page bounce rate (people who leave your site after viewing only one page) and increase the average length of a visit. You'll also see fewer server errors and page timeouts.
These are all critical SEO ranking factors. Search engines can penalize your domain if your website loads slowly due to slow server response time. A lot of downtimes might result in your site being removed from search engine results pages because visitors can't access it. And so on.
The key to success? Find a hosting provider that is SEO-friendly. In the next section, we'll examine the factors you should consider.
4 Things To Look For While Finding SEO-friendly Web Hosting
Now that you understand the importance of an SEO-friendly hosting service, let's consider four things when choosing your host and package.
1. High Uptime Guarantee
Uptime is the percentage of time your site is online and accessible. Naturally, you'll want your site to be constantly available, but this is impossible to guarantee.
Look for hosting services that offer a 99.9% uptime guarantee or even slightly above. 99.99% uptime is the equivalent of only 1.44 minutes of downtime (at the most) in 24 hours. I do not advocate choosing a service that offers anything less.
Pro tip: subscribe to a third-party uptime monitoring service to ensure you will be the first to know if your website goes down. That will allow you to contact your hosting company and resolve the issue.
2. Location of the Server
You'll need to reduce your server response time to ensure your website loads quickly. Geographical location is a factor here, so choose a server as close as possible to the area where most of your traffic comes from. For example, if your core audience is in North America, don't choose a server located in Europe.
Pro tip: read more about How Data Center Location Impacts Your Website
If you serve an international audience or want to boost your site's performance further, you should consider working with a Content Delivery Network. This is a network of servers. A website visitor will be served content from your site from the network's nearest server to their physical location with a CDN.
3. Optional Value-Adds
Hosting providers understand that they are in a competitive market. Therefore, many offer value-adds to entice you to work with them. While all value-adds are not of equal benefit, there are some you should look out for.
Here are some great value-adds for your SEO that your hosting provider might offer:
SSL. If your host supports SSL, the connection established between you and the server is encrypted. This provides data security. More and more hosts now include SSL as a matter of course, and you should avoid any service that doesn't. Pro tip: monitor your SSL certificate to know if it has a problem.
The option to upgrade or change plans at any time. Your hosting service should allow you to change or upgrade your plan as your website grows.
Automatic backups. Sometimes, something will go wrong with your website. Automated backups mean nothing will be lost, and you can quickly get your site back online.
Since you have your pick of so many hosting providers, consider the value-adds each one offers as you choose.
4. Great Support Team
Unless you know how to fix a website when something goes wrong, you'll need robust and reliable technical support. I recommend only considering hosting services that offer 24/7 support.
Even if your hosting provider doesn't have a 24/7 phone support line, they should offer a live chat function or monitored email address you can contact anytime.
Getting Started with Hosting Your Website
Now that you understand the basics of choosing the right SEO-friendly hosting, let's look at the steps you'll need to start.
1. Determine Your Website Type
Before you choose your web host, you must determine your site's needs to select an appropriate package. Begin by deciding which of these two categories your site falls into:
Static. If your website is purely informative, then it is static. In other words, on a static site, the source code doesn't change in response to visitors' actions. For a static website, you'll only need HTML and CSS.
Dynamic. Website visitors can interact with a dynamic site's elements. For example, they might be able to put products in a shopping cart or fill out forms. Dynamic sites also use Javascript or PHP.
Naturally, hosting for a static site will be cheaper because it requires fewer resources.
2. Choose the Type of SEO Web Hosting
The best hosting service is the one that best fulfills your needs. By now, you should have an idea of the elements that are most important to you. Knowing your budget and how much you're willing to compromise to save money would be best.
The main types of hosting are:
Dedicated hosting. Dedicated hosting means your website has a server all to itself. This gives you more control and a faster, more reliable service. However, dedicated hosting is expensive.
VPS hosting. Virtual private server (VPS) hosting is a middle ground between dedicated and shared hosting. Each website has its own space within the server. It's an excellent option for a growing site, especially if you have minimal technical know-how.
Shared hosting. Shared hosting means your website will be stored on the same server as several other sites. Shared hosting is cheap but can slow your site down and impact the user experience.
Managed WordPress hosting. WordPress is the world's biggest content management system (CMS), powering over 38% of all websites on the Internet. Managed WordPress hosting features make setting up and maintaining your WordPress site easier.
Cloud hosting. Cloud hosting is a network-based hosting solution that spreads resources over several servers. It is the most versatile solution, allowing users to scale as their site grows easily.
I recommend avoiding shared hosting if at all possible. The trade-offs are not usually worth the amount of money you'll save. I suggest VPS, Cloud, or Dedicated hosting as the preferable options.
3. Decide On Your Web Server Operating System
All major website hosting services will let you pick one of two operating service systems: Linux or Windows.
Both operating systems are secure. Linux is somewhat more popular in the tech world, meaning that web designers and developers will likely be familiar with it. Ultimately, though, it's a matter of preference. I suggest you choose the one you and your employees are familiar with.
4. Set Up Your DNS Address
Once you've chosen your hosting and purchased your package, it's time to set up your Domain Name Server address. We can think of DNS as the Internet's Yellow Pages - instead of phone numbers and addresses, it contains websites' IP addresses.
Access your Domain Control Panel via your hosting provider's website to set up your DNS address. Then, access the Domain Registration section and replace the existing DNS with the ones your chosen web hosting service provides.
5. Upload Your Website
Congratulations! If you've chosen your hosting package and completed the above steps, you can upload your website to the selected server. You'll use your host's File Manager or FTP client to do this.
The process is pretty straightforward - strictly follow your specific host's instructions. Ensure you have the correct IP address in the FTP address field.
Some hosting providers will take care of this step for you, especially if you transfer your hosting from another provider.
Top SEO-friendly Web Hosting Providers In The Market Right Now
As we've discussed, you can choose from thousands of web hosting providers. I hope this article has demystified the process of selecting an SEO-friendly provider. Ultimately, you know your website and its needs best.
Here are just three of the great hosting packages you can consider that are great for SEO:
WPX is where I host my website, Diggity Marketing. They offer a host of great extras, including site speed optimization, daily malware detection and removal, and access to a CDN. Their 24/7 customer service is also second to none, with an average response time of just 30 seconds.
Bluehost is an affordable option for those on a budget, with many packages costing less than a cup of coffee per month. Your Bluehost package includes an SSL certificate for a year and 99.99% uptime.
Siteground is a veteran player in the hosting industry and currently hosts over 2 million websites. I particularly recommend it for online store owners. Their VPS hosting plans are well-priced for those who want to graduate from shared hosting. They also offer 24/7 customer support and 99.99% uptime.
These are just some of the many potential recommendations I could have offered. The key is to determine your needs and take your time to do your research with those in mind.
Bottomline
If you're launching a website, you shouldn't just pick the cheapest hosting provider or the first one that pops up in a Google search. All hosting providers are unequal, and choosing the wrong one can seriously impact your site quality, user experience, and SEO performance.
Therefore, follow the outlined process to determine your website's needs and choose the best host for you.
Pro tip: I also recommend checking out MangoMatter, a web design company that publishes honest hosting service reviews.
With the right web hosting, your SEO performance will improve, and your audience will grow. As long as you offer great content and a fantastic user experience, your site visitors will keep returning for more.