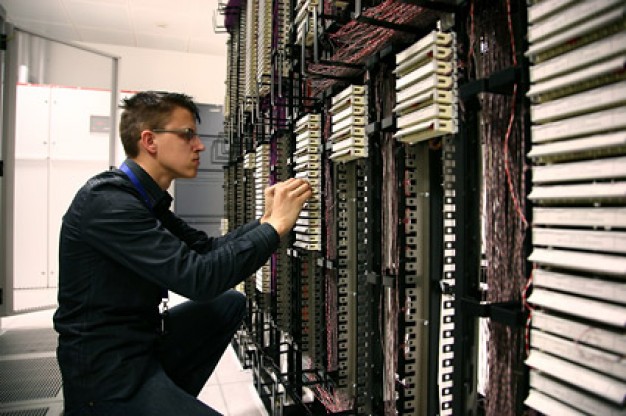 While it is feasible for most big companies to hire their own systems administrators, there are plenty of smaller web based businesses that maintain and run their own servers. In fact, the process can be quite enlightening and helpful for your business and its infrastructure as well as its expansion. Running your own server might seem like a daunting task at first, but with a couple of tutorials and some helpful maintenance tools, you can run your own server like a professional.
When you are setting up your servers you should keep in mind several helpful hints and ideas to keep your servers running at their optimum and avoid crashes that can cost you time and more importantly money. The first thing you will need is a server operating system that is right for you and the volume that you want your servers to handle. There are plenty of things to keep in mind when you are selecting your operating system including ease of install, price, ease of maintenance, and any sort of customer care and service that is offered with the operating system you choose. Also, if you are distributing or sending files over the internet, then you will need a different configuration for your server than if you are a more passive website.
Security and the Bandwidth
The two biggest things to keep in mind when you are setting up your server are security, and the bandwidth which you will require to keep your servers running smoothly. Security will differ depending on whether your web based business handles sales through your website, or whether your website uses landing pages to gather information from prospective clients. With a sales based website, you will need some advanced security options to handle credit card or money transfers. Most credit card companies will help you with this, but, of course they all have their own fees and those fees change depending on your volume of business. If you do not handle money directly with your website, you still need to keep your visitors' security in mind. Any sort of information that is gathered by your website will need to be kept private on your server or servers. Setting up security for your server is not only important for your website's visitors, it is also of utmost importance for you and your business. Any sort of information that is on your server must be protected from anyone that would try to steal your information. A firewall is an excellent security option for any server, not only is it easy to install and maintain, but having multiple security parameters will deter any sort of malicious person from getting into your server and its files.
The bandwidth of your server is another extremely important part of setting up your server. Figuring out the proper bandwidth will depend on the amount of traffic that you anticipate your website generating. Server crashes can not only cripple your traffic, but they can also drive away potential clients and customers. The appropriate bandwidth might be a bit harder to figure out given the fact that you do not necessarily know what kind of traffic your website will generate, but overestimating is never a bad option. Hopefully you will need to add more bandwidth very soon after your website is built on account of having more hits than you originally anticipated. If you want your website to function at its most optimum while turning any of your hits into clients, then you should talk to a network professional about setting up the best bandwidth for your site.
Server Maintenance
Once your server is setup, you will need to worry about its maintenance, or rather, let someone or a software worry about it. We make remote monitoring and maintenance easy via our services and tools. Our instant alerts span any sort of media - from SMS - to email - to phone alerts for when your server needs maintenance.
For any manual server maintenance problems, you will need to consult the owners manual or contact a licensed professional to help you get your server back online and running. A few helpful safety tips can go a long way though so be sure to wear an antistatic bracelet, and most importantly - be certain that your server is disconnected from its power source to avoid electrocution.