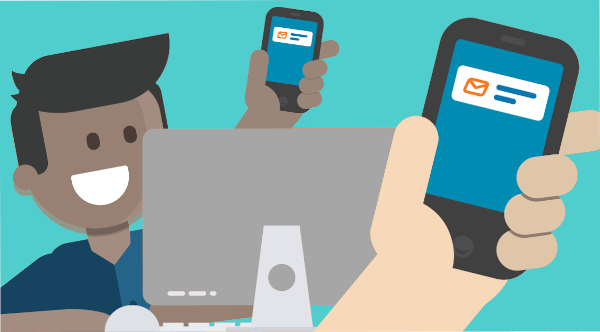 2020 might be the year that we get mainstream adoption of folding cell phones and 5G connectivity, but some things don't change, and SMS usage appears to be one of them. This reliable technology is still widely used by businesses, professionals, and consumers on a daily basis, even as social media dominates our lives. SMS messaging is just convenient and quick.
In the United Kingdom alone, 37.2 million customers in 2016 opted to receive marketing and business communications via SMS from brands they trusted. By the end of 2020, that figure is expected to have reached 48.7 million – and this isn't a trend only seen in the UK. In the United States, trillions of text messages are sent every year. That's tens of billions of text messages every single day.
If people continue using a service even when alternatives are available, it means people know, trust, and prefer that service. SMS has been around for decades, and while the technology remains pretty much the same, networks have advanced significantly and offer greater global coverage than ever before. The whole world uses SMS, and so should your business.
Yes, even in 2020.
Customers Prefer Receiving Texts
If you run a customer-facing business, SMS messaging could be your secret weapon to maintaining engagement with those customers. You might think that your latest social media campaign is the best way to tell your customers about a sale, new services, or fresh initiatives you've developed, but the truth is that it's not.
In fact, your customers probably aren't looking at your social media at all. Even if they "follow" or "like" your page.
A study in 2019 revealed that despite every major brand utilizing social media with the purpose of engaging with customers, most people don't care about what brands post. A survey of 2,500 people across the world found that most customers aren't engaging with brands' mobile apps or social media, and prefer instead to be contacted directly via SMS to receive important information. Those who explicitly opt-in to hear about your latest campaigns and offers will be more receptive to what they receive in their text inbox and likely wouldn't have learned about it through social media unless by accident.
Specifically, the report found that only 12% of customers preferred to use a mobile app for receiving communication from a business. Less than half of consumers said that corporate mobile apps were placed on the home screen of their phone, meaning it was less likely they would check those messages regularly, if at all.
However, most users did have quick and easy access to their SMS messages.
More than half of consumers want businesses to text them back, making SMS messages a vital and powerful marketing tool. SMS offers benefits beyond marketing, too. From engagement to customer support, SMS messages provide a quick and convenient way to connect with customers who are likely to open a text message within minutes or seconds.
Get Instant Notifications About Key Issues
Beyond marketing and customer interaction, SMS messaging can form the backbone of your company's ability to respond to problems. This is particularly true for any business operation that relies heavily on servers, computers, and networks. When your business relies on the proper functioning of networking equipment, it's essential that you are always kept up to date on how those systems are working.
Whether your webpage goes down, an email system fails, you experience errors in your servers, or you are vulnerable to a cyberattack, you and your tech team need constant updates to reduce downtime. SMS messaging can be an invaluable tool in this instance, providing real-time updates on equipment even if your Internet connection goes out.
With third-party tools responsible for your web operations' health like web-based remote monitoring service that keeps track of your networking equipment, you can create custom notifications that alert you and your team when something is wrong. SMS messaging provides instant updates that are reliable and can be accessed anywhere you receive cellular data coverage. No Wi-Fi, no 4G, and no 5G – just key information delivered straight to your text inbox, wherever you are in the world.
Bilk SMS services allow you to build on that functionality, helping you create custom notifications, alerts, confirmations, and reminders through SMS. Keep in touch with all of your team by creating automated messages, and easily forwarding and sharing information to pre-determined groups.
There's No Dependence on Internet Connectivity
What good is an email notification when your email system has gone down? SMS coverage is truly global, and at any moment, you are more likely to have cellular coverage than Wi-Fi. If your email system is down, you're experiencing network problems, or your business is experiencing any other issue, SMS messaging doesn't need the Internet.
A single SMS message is just 140 bytes. It's sent instantly, gets the job done quickly, and informs you, your team, or your clients about key information in one short message. Should you need to provide additional context, it's perfectly possible to send links that open in a web browser or redirect mobile users to an app.
For customer-facing businesses, consider the possibility that your customer doesn't use a smartphone. You might not realize it, but 15% of the American population still uses regular feature phones. These are regular cell phones with no access to a mobile app store and have limited Internet access. Pew Research found that while 95% of Americans own cellphones, just 81% of the population own smartphones. No business should rule out those millions of Americans who may be receptive to your company's message, but who may not be able to receive it on their mobile device.
When the Internet isn't available, or it is unreliable, SMS text messages alert you to important issues instantly. Consider it the ultimate fallback, a service you can rely on when everything else fails. It is a tried, tested, and trusted technology that your business needs to survive.
You Can Track SMS
Need to know if your team members have accessed the information you have sent? SMS tracking allows you to see who has read your text, and who has clicked on links sent to them. This is helpful for companies who need to know if clients or colleagues have received important information. Still, it's also a handy tool for companies looking to engage with their customers.
Developing an SMS campaign that reaches out to existing customers to get them to engage with your website, access a service you provide, or purchase your product can then be measured and tracked. It is possible to calculate the ROI on a business-to-consumer campaign by measuring open rates, interaction, cost, and revenue.
Combined with the fact that your customers want you to reach out to them via SMS, and it proves an extremely powerful tool.
SMS Spam is Virtually Non-Existent
Another reason why customers prefer you reach out to them via text message, besides the fact that it's more convenient, is that their SMS inbox is not inundated by spam messages like their email inbox. Smartphone users don't need a spam folder for their SMS messages because SMS spam is virtually non-existent. When users receive a text message, it is usually because they have signed up for it.
In the United Kingdom and the European Union, General Data Protection Regulation (GDPR) means that companies can be fined millions of Euros if they incorrectly handle customer data. That includes, but is not limited to sending SMS messages to people who have not given their express permission to receive messages. In the United States, the Telephone Consumer Protection Act offers similar protections.
This protection means that, if your customer is receiving your text messages, it's typically because they want to hear from you. When you direct an SMS campaign to your database, it's more likely they'll be interested in what you have to say, or what you're offering that day.
Automate Customer Notifications
SMS messaging can even scale back your costs. Avoid unnecessary spending unnecessary time and finances on your administrative team sending out notifications to customers and clients, and instead rely on automated SMS messaging systems that keep your clients informed.
With SMS, you can send important information about appointments to colleagues and clients, inform customers about your most recent promotions, and even share links to give people extra information when necessary. SMS messaging still trumps email and social media when it comes to sending information instantaneously and making sure those who receive it, receive it.
SMS - Your Ultimate Failsafe
SMS messaging is your company's ultimate failsafe. Not only does it increase the chances of your customers and clients receiving the message you send, but it also delivers that information in a way people actually want to receive it.
What's more, SMS messaging serves as your ultimate failsafe when email networks experience problems or internet connectivity is limited. In 2020, with more businesses relying on their Internet connections, SMS messaging gives you the upper hand.