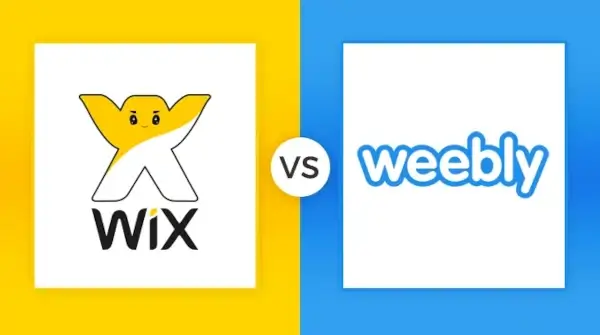 Even if you're new to website creation, you've probably heard of Wix and Weebly. Alongside app-building tools like Firebase, they're two of the most popular resources on the market. At first glance, they might look pretty similar – so how do you choose which one to use for your new site?
This post explores both platforms, comparing their advantages and limitations. What's the difference between Wix and Weebly, and which is the best website builder for your needs? Let's find out!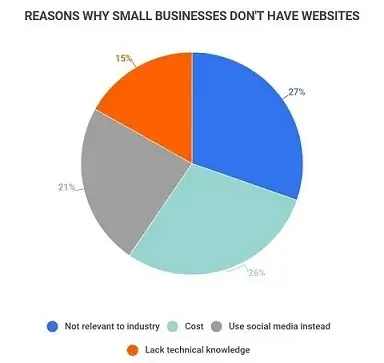 What are Wix and Weebly?
Wix and Weebly are both no-code website-building platforms. As the image above shows, some business owners feel they don't have the budget or technical knowledge to set up a website—but Wix and Weebly provide drag-and-drop editing so that anyone can do it (and they both have free plans, too).
There are many other similarities. Both have been around since 2006; they both operate a SaaS subscription model and let you set up an account without giving credit card details.
Both offer comprehensive app stores to extend the core website builder so that you can hook the site up to your business telephone service, for example.
Differences include Wix offering more templates and customizations, while Weebly has more e-commerce options. Wix does not have an export function, but Weebly does.
But is Weebly suitable for small businesses? Is Wix actually free? Which is better for SEO? In the next section, we'll answer these questions and more.
Comparison: Wix vs. Weebly
We've compared the tools to key features, user-friendliness, and value for money. You'll need to check their websites for full details of what they offer, but here's an overview.
Usability
If you've never designed a website, you'll find it easier to start with Weebly. It has fewer features to learn than Wix and is not incredibly complex. The UX is simple and intuitive—for example, parts of the interface slide in and out while you edit the background, whereas Wix can quickly become cluttered with different elements.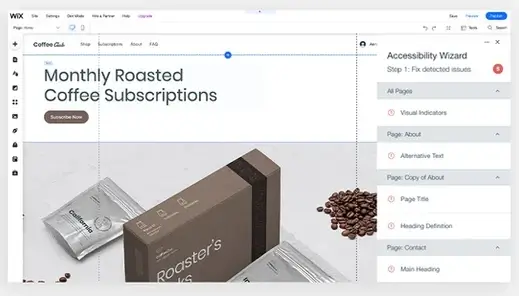 Wix can be overwhelming initially, purely because it's so customizable. It'll take you longer to discover all the functionality, although there are tutorials to help you. There's also an option for complete beginners called Wix ADI (Artificial Design Intelligence). This tool learns about your business using neural network machine learning and automatically picks the best design for your audience.
One downside of Wix is that your changes don't automatically take effect in the mobile version of the website unless you adjust it there too. In Weebly, all templates are automatically optimized for mobile use.
Winner: Weebly
Editing/Design
Wix gives you complete editing freedom. You can put all the elements, such as exit-intent popups, exactly where you want them, control colors and fonts, and animate images. Moving a piece of content by a single pixel at a time is possible. Weebly allows you to rearrange design elements, but only on a structured grid.
Wix has around 800 templates/themes (some nicer than others!). Pick one based on your industry, whether in fashion, real estate, or selling cloud communications for small business needs and customize it. Weebly only offers around 60 templates/themes, with limited customization.
The drawback with Wix is that once you pick a template and start using it, you can't change it without losing all your site content. Weebly can also accommodate much larger websites (50+ individual pages) with unlimited sub-levels.
Winner: Wix
E-commerce
Both platforms have e-commerce capabilities, enabling website or software developers to easily add products, optimize them for search engines, and accept payments online. Both also have an automatic sales tax calculator and a shipping cost calculator.
As you'd expect, Wix does well on the visual presentation of products—you can add a zoom effect to images and include videos. You may want to have everything if you want to put your site through automated accessibility testing to ensure you're catering to all your customers.
You can now set up customer accounts and subscription boxes for repeat customers and sell on channels like Instagram and Amazon.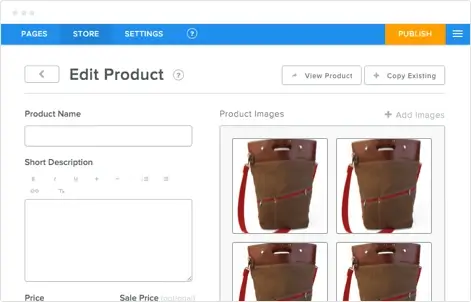 Weebly's acquisition by Square has improved its e-commerce functionality (although users may be confused over whether they're using Weebly or Square Online). It now includes features like the point of sale, advanced reservations (handy for travel or hospitality), and rapid payment processing integrations. You can create a new storefront or import your product list automatically, and the email editor lets you send customized receipts.
Winner: Weebly
Blogging
With Wix's blog editing tool, you can add images, text, videos, and tables to your blog. Again, there's freedom of design, with the Rich Text Editor letting you adjust the size, style, and alignment. You can manage everything from your Wix Editor, live site, or mobile device.
It's possible to set up a members' page, view blog analytics, and translate it into other languages. You can schedule posts and add different blog authors, so creating an affiliate link with a member or influencer would be easy.
Weebly lets you create complex layouts for blog posts, using customizable templates, and adding any Weebly element from the regular editor.
You can manage comments, schedule future content (which is very useful if you make money blogging as it ensures you release a steady stream of content), and add custom header and footer code for SEO opportunities. But on the whole, it's a bit less powerful than Wix.
Winner: Wix
Marketing
Both platforms offer built-in marketing tools. With Weebly Promote, you can integrate your email campaigns directly with your website—build email lists, use drag-and-drop to create custom emails, and track your stats. There's also an automated email feature, free of charge but with restrictions.
Wix has a couple of marketing tools. Shoutout has customizable templates for sending emails or sharing on social media. It enables you to integrate contact forms and track engagement metrics. Wix Ascend is for designing and sending customized newsletters. However, it'll cost you extra.
Winner: Draw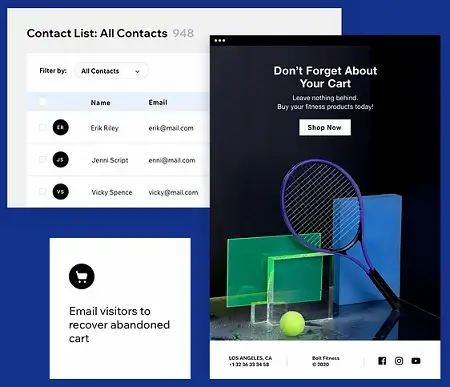 SEO
Wix and Weebly offer SEO tools, including standard features like meta titles, descriptions, and alt tags. You can change URL names and create permanent 301 redirects for old URLs. One of the key differences is that Weebly restricts your use of headline tags, while Wix lets you go down to H6.
Wix has more SEO options generally, including the SEO Wiz assistant. It's ideal for beginners as it creates a personalized step-by-step plan for you. There's also a Google Search Console integration, instantly tracking your site's search performance.
Winner: Wix
Backup/Restore
Wix has a handy Site History function that tracks your changes and saves a copy of your site each time. You can restore your site to a previous version in one click. You don't have to remember to make backups (but it's best to save copies of your website when you've updated it!).
Weebly lets you manually download a copy of your website to store it elsewhere for safekeeping, although the file is not restorable. It's possible to undo changes in the editor, but changes can't be undone once you leave the editor or publish the site. All is not lost because the support team can restore lost work—but not instantly.
Winner: Wix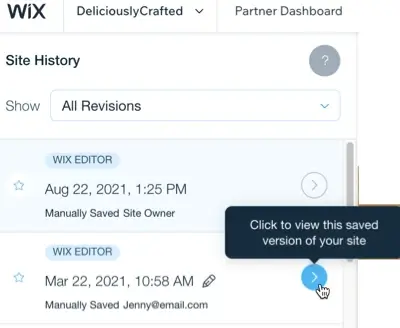 Pricing
Both platforms offer a free plan as well as premium plans. With the free version of Wix, you get 500MB each of storage, bandwidth, and limited email marketing. The downside is that you can't turn off ads or choose a custom domain name.
Wix also has eight paid plans, all ad-free. They're divided into Website plans for personal sites, basic business sites, blogs, portfolios, and Business/E-commerce plans that let you sell online.
Website plans:
Combo $13/month (all prices are annual)
Unlimited $17
Pro $22/month
VIP $39/month
Unlimited is an excellent choice as there's a big leap in functionality for only $3 more monthly. This tier includes the Wix Visitor Analytics and Site Booster tools.
Business/E-commerce plans:
Business Basic: $23/month
Business Unlimited $27/month
Business VIP $49/month
Enterprise $500/month
Weebly's free plan is similar to Wix's and has unlimited bandwidth and site analytics. But if you want to upgrade, how much does Weebly cost monthly? There are three paid plans:
Personal $6/month
Professional $12/month
Performance $26/month
You don't have to worry about buying domain names as one is included in all paid plans, but only ditch the ads once you get to the Professional level (which also has unlimited storage). The performance brings an advanced set of e-commerce features. All plans come with some e-commerce tools, increasing as you increase in price.
Both platforms charge for a custom domain name after the first year and an email account with your domain. But if you change your mind after buying, both offer money-back guarantees—14 days for Wix and 30 for Weebly.
Winner: Weebly (if you're looking for a cheaper option)
Conclusion: Should I Choose Wix or Weebly?
In our comparison, Wix comes out on top—but both are great tools for website creation. They both offer decent customer support and enterprise security service features (check out the pricing plans to see what's included at which tier).
In the end, your choice will depend on your specific needs. If you want to create a fully-customized site, you're confident in doing so, and you're willing to pay for the privilege, go with Wix. If you're happy with a more basic site that's easy to create and costs you less, Weebly is the better option.