I have already reviewed our Chrome transaction recorder extension in a previous post where I explained into detail how to record a transaction using this specific extension. Now it's time to look at our Test tools and Current Status Chrome extension, so stay tuned.
To get to Chrome web store, go to menu -> tools -> extensions or follow this link - chrome.google.com/webstore.
When you do a search for WebSitePulse, all three of our extensions will be shown: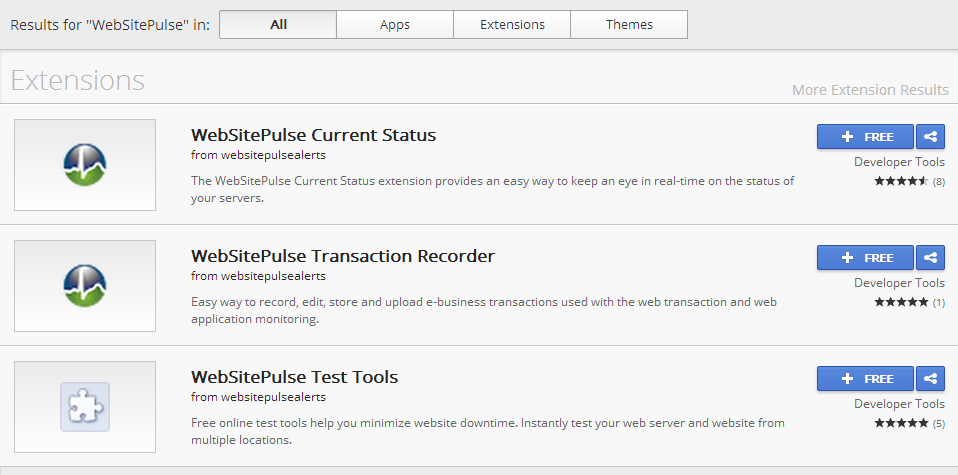 To add an extension to your browser, simply click on the + FREE button.
In order to instantly test your websites and servers directly from your Chrome browser from 3 of our monitoring locations (Seattle, USA; Munich, Germany; Brisbane, Australia), you have to install our Test Tools extension.
If you are interested in knowing if the targets in your account are working correctly and need to be notified whether the status of the targets changes, you should install our Current Status application.
Once you install the applications, you will see them on the top right-hand corner of the browser. The first icon is the Test Tools extension icon. If you click on it,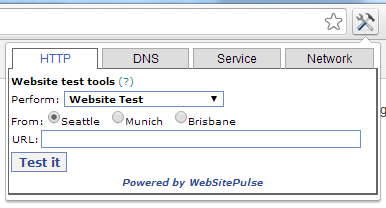 the Test Tools extension will open. You can choose between 4 different types of tests.
The HTTP tests allow you to check websites which use either HTTP or HTTPS protocols.
You can choose 4 different HTTP/HTTPS tests from the perform drop down menu:
Website Test – We will connect to the server and download only the HTML source code of the page in question
Web Page test – We will do the website test and also check the links in the HTML source code for availability and download speed. We will check the images, frames, etc. so you will know if you have any broken links, for example. We will provide you with detailed information regarding the DNS resolve times, connect times, redirect times, first byte, last byte and total response time and size of each component.
HTTP headers test – We will connect to your server and get the headers your server return and show them to you.
China Firewall Test – if you select this option, you will be able to run website tests from three of our Chinese locations – Hong Kong, Beijing and Shanghai.
The DNS tab -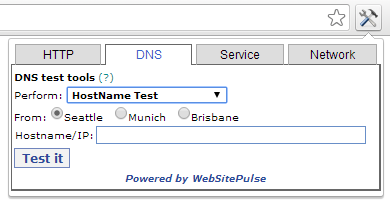 will let you run the following DNS test:
Hostname test
MX lookup
NS records lookup
SPF lookup
Reverse DNS
Blacklist Check
Find out more about our DNS monitoring level.
The Service tab -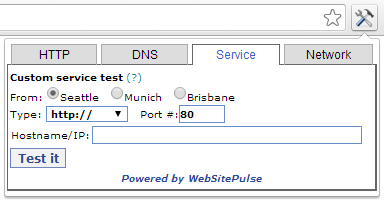 allows you to check the availability and response times of any TCP/UDP-based services. You can specify the port on which the services are running. You can choose the following protocols: //, https://, ftp://, smtp://, pop://, imap://, ssh://, telnet://, dns://, custom://.In short, this is the test section you should consider to make sure the specific service is working and a connection can be opened on the specific port.
The last tab is the Network tab: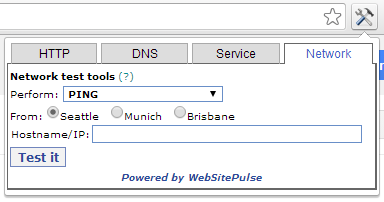 You can troubleshoot network problems using the tests available in this section. You can run the following tests:
WHOIS – gives your information regarding the owner and/or administrator of a specific domain name and can also provide you with contact information of those people.
IP/Network Lookup – basically the same as WHOIS, except it's not for domain names but for IPs/Netowrks.
MTR – This is one of the most useful tests when you try to pinpoint packet loss and problems on the route between your servers and our locations. It combines the PING and the Traceroute test and can give you information exactly which router or device is causing the problems.
If you have an account with us, you can also run these tests and more from the Test tools section. You can use all of our 40 locations and not just the three available for this extension.