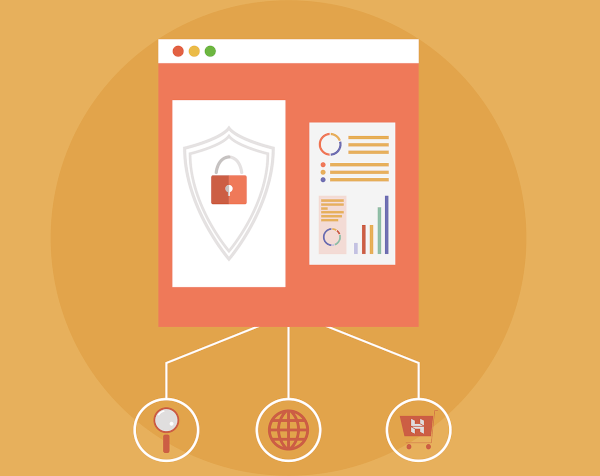 Last year, during the Magecart attacks saga, I was constantly flooded by calls from e-entrepreneurs – all sounding worried and anxious. The attacks were brazen, and the digital trust was taking a beating. After the initial shock waned, the entire conversation shifted gears. I still remember having long discussions with my clients about eCommerce security threats and their solutions. It now focused solely on building a reliable security system.
The most predominant question my clients ask me is, "Is my eCommerce store safe?"
Well, yes and no! I usually tell my clients that regardless of the security systems they have in place, they should be aware and ready for any eventuality.
Remember that the hackers and their hacking techniques are improving every single attack. The attacks are not only becoming more and more complex but also highly destructive. And their main target is your eCommerce sites. If you don't pay the needed attention to secure your eCommerce store, you run the risk of losing your customer data, financial fraud, leaked trade secrets, and worse still, loss of reputation and trust.
As an eCommerce website development company owner, I insist on keeping privacy and security as a top priority because I know that eCommerce security is not to be taken lightly. You will be astonished to know that the loss due to cybercrime is massive. More than $3.5 billion was lost due to cybercrime in 2019 alone.
In this constant cat and mouse game between hackers and eCommerce stores, you should be aware of new technologies to keep your store competitive and safe against cyber attacks. The best way to stay ahead of cyberattacks is by being aware of your store's vulnerabilities and developing best practices to protect your store. These are the 8 utmost eCommerce security threats and solutions of 2021.
1. Transaction Fraud
Transaction fraud has been prevalent in the eCommerce industry since its very inception. Your customers spend vast amounts of money on your store, and each payment can be subject to financial fraud. There are two forms of financial deceit – stolen credit card details and redirected transactions. Either way, the loss due to negligence can be enormous. We don't usually keep track of every transaction that we make every day using our credit/debit cards. Hackers make use of our lapse in attention.
Solution:
First, the HTTPS indicator is a fairly decent security marker, meaning the website uses an SSL certificate. Yet, it is not the last word on security. These days, such indicators are also subject to fraud and forgery. The forgery can look so legitimate that it can fool even the professionals among us.
It is usually quite surprising to web developers like me when PCI DSS standard compliance is not taken as seriously as it should. This compliance is only beneficial to you and your customers. As an eCommerce store, you should invest in PCI DSS compliance as it helps you strengthen the safety of your payments, remove sales dead ends, and bolster customers' trust in you.
2. Direct Attacks
Distributed denial-of-service /DDoS attacks are a relatively new form of cybersecurity threat on eCommerce sites. Here's how it works – hackers will build a program in many internet-enabled devices to continuously try to sneak into your store. This well-synchronized attack will most likely be overwhelming for your store to bear, meaning your regular customers will also not be able to get into your site. These types of attacks put your hosting allowance to toss.
Solution:
Although these types of attacks are rare, they are still a threat and should be treated as such. The best way to counter such attacks is by having a DoS protection service. With this service, your store's incoming traffic is constantly monitored and, if any fraudulent entry is noted, it is blocked.
3. Brute Force Attack
You think your store's security is robust, and your passwords can't be easily deciphered? Well, be prepared to get surprised. Hackers try to get into your store's admin panel – to hack your website's password. This bold and direct attack is called brute force attack. These hacking programs use sophisticated software that cracks even the most challenging passwords by using every combination possible.
Solution:
The solution to this form of attack is straightforward. All you have to do is keep changing your password regularly and create intricate and complex passwords.
4. Malware
Malware tries to get access to your store's backend. With such a discreet entry into your store, the malware can gather your customer's data and lift site information. The modus operandi of malware targets credit card and personal information through malware injections to plugins and widgets.
Solution:
I would suggest using good anti-virus and anti-malware software. You should also use secure servers, create robust admin passwords, install SSL Certificates and deploy a multi-level security system. It is always a good idea to sign up for a third-party vulnerability monitoring service.
5. Phishing
Phishing is one of the most prevalent cyber-attacks simply because of electronic interaction on the internet. We have all seen one form of phishing or the other. Hackers impersonate as a real business. These hackers then send emails to your customers using a fake copy of your business website to trick them into giving their personal information. Your customers assume that the emails are genuine and legitimate and that the request for information comes from your business.
Solution:
The first solution to phishing prevention is educating your customers. Let your customers know the proper security practices to follow. Educate them about the importance of having strong passwords. Let them know never to open suspicious emails or download suspicious files. Ask them to pay attention to peculiar spellings or grammatical mistakes that might seem out of the ordinary.
6. Spam
The place most of your store's spammers converge is usually your blogs' comments section. You want your potential customers to read your blogs and hopefully leave a comment. But, at times, these contact forms and comment sections become fishing grounds for spammers. They masquerade as real customers and leave a suspicious link in the comments. Otherwise known as SQL injections, these programs gain access to the site's database. If you are not careful, it can also enter your employee's inbox and continue its attack from there.
Solution:
The easiest solution for this situation is to have spam filtering tools, invest in employee training, and install anti-virus software.
7. Bots
It would help if you varied bots, too, as this form of a cyber attack can mimic human behavior to such an extent that it becomes difficult to distinguish between bots and customers. Bots start the episode by initially scanning your store's website for inherent security vulnerabilities. If the bots manage to catch any issues, they immediately send the report to a botmaster. Or, worse still, begin to perform any number of fraudulent activities. That's not all; bots can put your host and server under immense strain. You can end up running hefty server costs.
Solution:
The real danger when it comes to bot attack is that it mimics human behavior almost accurately. So, it becomes complicated to spot a bot. While it might be tough to pinpoint a bot, you can indeed install a strong server firewall to keep unwanted traffic away. For example, specific web servers allow stores to create filters to keep away illegitimate traffic. If you find unexplained traffic coming in from a particular location, you can easily block the IPs from that specific country.
8. Cross-Site Scripting
Cross-Site Scripting – XSS - can attack any company of any size. This form of attack did not spare even major players like eBay from its grasp. The main target is to gather information such as names, addresses, payment information, and passwords. And it's done by injecting JavaScript code into your program.
Your online store, no doubt, stores tons of credit card information about your customers. Hackers can create any number of orders or change the delivery address. A recent study noted that XSS attacks are responsible for a staggering 27% of all cyber attacks.
Solution:
There is no solution for this type of security attack. The only solution is prevention. Take the help of security experts to put safety parameters in place.
Wrapping Up:
When clients approach me to improve their sites' security, I tell them that we are in a cybersecurity arms race. Without robust and updated security systems in place, online stores don't seem like winning this race. The first step in moving towards a safer online experience is approaching a professional and experienced eCommerce development company. It pays to seek help from people who know the ins and outs of cyberattacks.