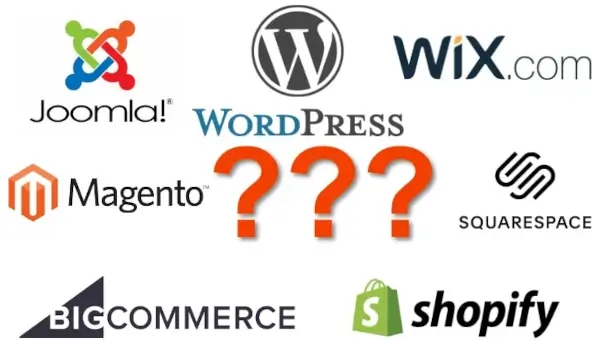 Choosing the right website platform is an important decision for anyone looking to establish a solid online presence.
In fact, choosing the wrong website platform has exposed brands to issues like security breaches, poor mobile responsiveness, and terrible load speeds.
To buttress the last point, Google research showed that 32% of users would leave your website if it experiences poor load speed. In other words, they want a good user experience.
On the other hand, the right website platform provides numerous advantages. A good website platform helps you build brand awareness, boosts your credibility, and makes your brand more accessible.
To help you make an informed decision, this article outlines six key factors to guide you in choosing a website platform. Let's look at them one by one:
1. Ease of Use
A user-friendly platform is crucial, especially for individuals who may not have technical skills or experience in web design and development. This applies whether you're creating a B2C eCommerce, nonprofit, education, or B2B manufacturing website.
Hence, your website platform should have an intuitive interface while remaining remarkably functional.
For instance, you could go for a platform with a wide variety of pre-built templates that you can use as your web design. These templates should be easy to customize, meaning you can make changes to the layout, colors, and typography to fit your brand. Furthermore, the platform can have a drag-and-drop interface, which allows you to move elements around your web pages easily. These elements may include text, image galleries, videos, buttons, and other features.
A user-friendly website platform saves time and money in the long run, reducing the need to hire a professional web designer or developer. It also allows you to focus more on your content and online presence rather than struggling with the technical aspects of website development.
An example of an easy-to-use platform is Wix which recently added 30+ new templates to its platform. It's a popular website builder since it offers simple templates and pre-built designs that still catch the eye.
Weebly is another excellent option, and it is designed specifically for beginners. Its user-friendly interface, design elements, customizable templates and themes, built-in features, and mobile responsiveness make it possible for anyone to create a professional-looking website without technical skills or design expertise.
2. Cost
Knowing how to choose a website platform also involves thinking about costs. Costs can significantly impact your budget. Some website platforms, such as WordPress, require monthly or annual fees, while others require a one-time payment, such as Wix and Weebly.
Other platforms may have packages that include either of the two options above, such as Squarespace, as shown below: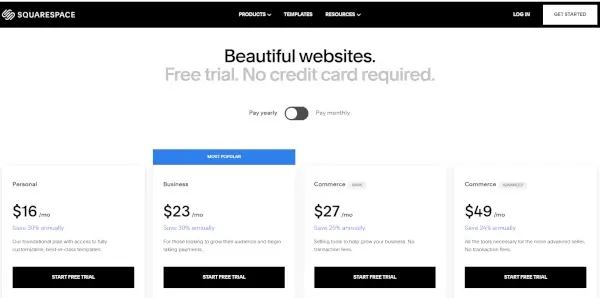 You should consider the other costs associated with the platform, such as hosting and domain name registration. Also, look for any additional features or plugins you may need.
You should also consider the long-term costs of using the platform. Some platforms, such as Squarespace, may require ongoing maintenance, updates, and security patches, which can add to your expenses over time.
Note, too, that some platforms are not as flexible as WordPress. While well-built and user-friendly, Squarespace and Wix, for instance, have a lock period. This might be an issue if you need to grow your website in the future or need to move it to a new platform. It's also essential to weigh the upfront and ongoing expenses against the platform's features, capabilities, and scalability (we'll talk more about this later).
Also, while some website platforms may offer low initial costs, they may not have the features and capabilities your business needs to grow. Conversely, some platforms may be more expensive upfront but may offer robust and advanced features and functionalities that can help your business succeed. These could include high-quality plugins, premium themes, and marketing integrations such as Google Analytics, etc.
3. Flexibility
Flexibility is a crucial factor to consider when choosing a website platform. This is because it determines how easily and quickly you can customize and scale your website to meet your evolving business needs.
A flexible website platform allows you to easily modify your website's design, functionality, and content without requiring extensive technical knowledge or coding skills.
For example, a flexible website platform should allow you to add new pages, change the layout and design of existing pages, and add or remove features like e-commerce functionality or social media integration.
A platform that does this well is WordPress, which is one of the reasons it's the most used website platform.
Your platform of choice should also allow you to integrate other tools and platforms, such as email marketing software, customer relationship management systems, and customer management systems. This will help you further streamline your business operations. Again, WordPress enables you to do these effortlessly.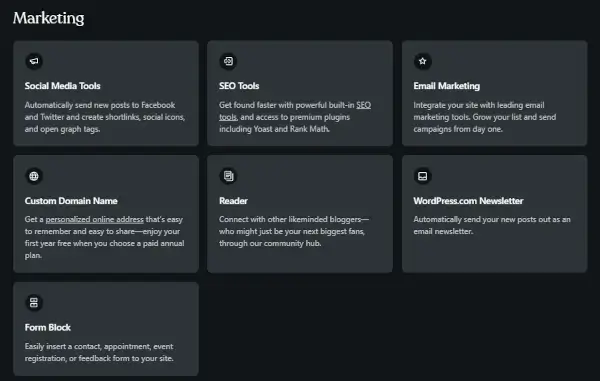 By contrast, a rigid website platform may limit your ability to customize and scale your website. It requires you to spend more time and money on development and maintenance. This can slow down your business growth and hinder your ability to stay competitive in the market.
4. Scalability
Your website's traffic and functionality requirements may also increase as your business grows. Therefore, choosing a website platform that can handle increased traffic and accommodate new features, design options, products, or services is essential.
A scalable website platform allows you to add new pages, sections, and functionalities to your website without affecting its performance. It should also allow you to optimize your website for faster loading speed and provide enough storage space for your website's content. An example of such a platform is AWS.
The website platform you choose should offer flexible pricing plans that allow you to upgrade or downgrade your plan as your business grows or changes. This flexibility ensures that you only pay for the features and resources you need at any time.
Another characteristic of scalability is how well your website performs on search engine results pages.
The best website platform will help you see better and faster SEO results by supporting your efforts through in-built SEO tools and allowing SEO plugins, for example. The platform will also provide mobile-friendly and fast-loading design templates and clean code that is easy for search engines to crawl and index.
Wix and WordPress are examples of website platforms that provide great SEO features.
5. Security
Security is another crucial factor when choosing a website platform.
A secure website platform should provide multiple layers of protection to safeguard your website and data. This includes SSL encryption. This standard technology encrypts data transmitted between your website and visitors' web browsers. It, therefore, protects this data from interception by hackers.
A secure platform should also offer regular security updates to fix any known vulnerabilities in the platform's code, reducing the risk of hacking or other cyberattacks. It should also have cyber security solutions such as strong password policies and offer two-factor authentication. This ensures that only authorized users can access the website's back end. Shopify and WordPress provide two-factor authentication, for example.
Moreover, a secure website platform should have a dedicated team of security experts who monitor the platform for any security threats or issues. This team should also be available to assist in case of any security-related incidents.
WordPress provides this feature through WP Engine. WP Engine is a managed WordPress hosting platform with a dedicated team of security experts who monitor the platform for any security threats or issues. The platform offers various security features, such as firewalls, malware scanning, and automatic updates for security.
6. Support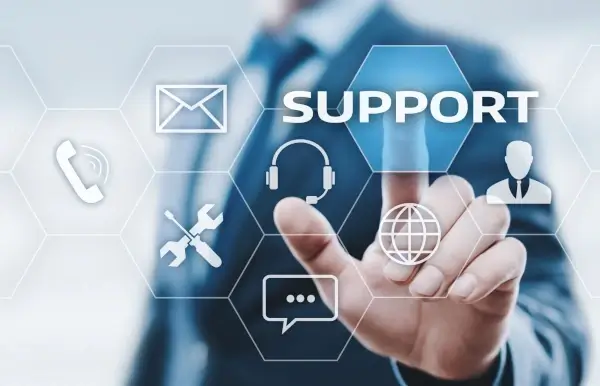 Having reliable support can be especially important if you are not technically savvy or do not have a dedicated IT team to help you manage your website. It can also be crucial if you rely on your website for e-commerce or other business-critical functions, as any downtime or technical issues can result in lost sales or revenue.
Choose a platform that offers responsive customer support through phone, email, contact form, or live chat.
You should also check for user communities, forums, and online resources that can help you figure out how to use or troubleshoot any issues on your own. A website platform with strong support will typically offer a variety of resources to help you resolve problems quickly and efficiently.
You should also be able to contact a support representative quickly and easily when you encounter problems at any time of the day. You want prompt and effective assistance whenever and wherever you need it.
Invest in website uptime monitoring tools that ensure your website continues to work properly for users, too.
In Closing
When choosing a website platform, these factors - ease of use, cost, flexibility, scalability, security, and support - will help guide your choice.
The thing is, some factors may be more important for you than others. Want to know how to choose a website platform? Sit down and think about your order of priorities. This will help you determine your preferences. Do you prefer an expensive website platform with advanced security features, for instance, to a cheaper one with standard security functionalities?
Ultimately, your business plan, goals, values, and needs will determine which website platform you will use.