Page 19
Posted on April 8th, 2014 by WebSitePulse in
Tools
,
Tech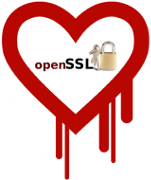 A major vulnerability in OpenSSL software was announced late yesterday, impacting all servers having the Heartbeat TLS extension enabled with OpenSSL versions states above.

The "heartbleed" vulnerability, has been already recorded as CVE-2014-0160. Further details can be found at heartbleed.com and www.openssl.org/news/secadv_20140407.txt.

The bug has already scared a lot of system administrators and site owners, and the one that we've done on WebSitePulse was to release a test against this vulnerability.

So, if you want to check whether your secure server is affected or not, please visit: www.websitepulse.com/heartbeat.php
Read more...