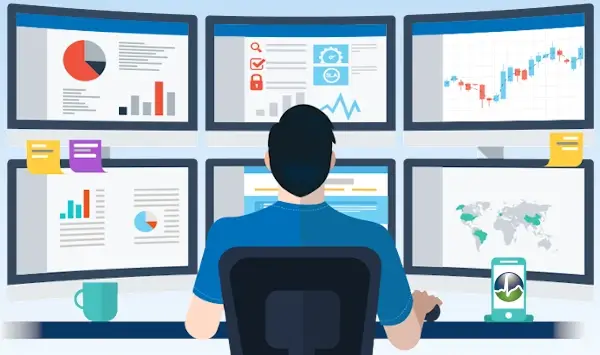 IT structures form the backbone of many companies in today's world. Servers allow connected devices to share information within a network by analyzing, processing, and recording information. They store all the company's data and enable users to access their information from any computer connected to the network.
It is essential to use server monitoring tools to keep the servers running effectively and smoothly to prevent crashes and keep data safe. Monitoring tools provide in-depth analysis of the servers, including logs of events, to maintain their effectiveness.
Server monitoring is an investment with immense benefits to the users, providing long-term solutions. With the help of monitoring tools, company agents can assess the servers' health and deal with any underlying issues timely.
What Is Server Monitoring and How Does It Work?
Servers are essential IT systems used for processing and storing information. Monitoring tools keep the servers working effectively. They also enable access to activity and data for the users.
There are several factors to monitor, but the following are the main ones you should set up for monitoring in your tool. If you don't have the time to do that, you can use a website monitoring company's services.
1. Vital Indicators
It is vital to keep checking the performance of your server metrics and data to ensure they work effectively at all times. One of the best ways to do this is by monitoring the key performance indicators (KPIs) to maintain effectiveness and prevent potential server failure.
KPIs are factors that affect the operating system of the server. The main metrics measured are CPU usage, network performance, and memory usage. Other indicators include; rates per second (rps), response time, error rates, and security.
2. Basic Values
Set the best baseline monitoring solutions that provide acceptable server data ranges after determining the most valuable KPIs. Determine the best acceptable values for the KPI by measuring the performance of each KPI metric on every server. The measurement will act as the baseline for measuring all future server performance.
3. Data Collection & Analysis
Configure the server-monitoring tool to collect and analyze data effectively. Server monitoring tools do this in a simple process of tracking log files for information. The log files contain user activity, errors, and security events, all useful for analysis.
4. Alerts Systems
After configuring your data and analysis collection, build an alert system that sends notifications to you and the users when there is any KPI breach.
5. Response
Lastly, set up a response procedure when all the systems are in place. Some of the questions you need to ask yourself at this time include:
Who is the person or team responsible for security alert investigations?
Who is responsible for finding and solving operational issue solutions?
You will also need to find out the kind of alerts that require a response and the urgency of the response.
Optimizing server resources helps in reducing server response times. Removing unnecessary plugins and pictures can help you achieve the same result.
What Is the Significance of Web Server Monitoring?
Many companies use servers as useful IT system tools for their day-to-day activities. Monitoring the servers' performance is crucial. It ensures that your page speed is efficient. Slow pages can hurt your rankings even if you get a guest post service and create quality content. Server monitoring helps you ahead of these problems.
It also ensures you can identify any issues and understand the system's resource usage for a smooth operation.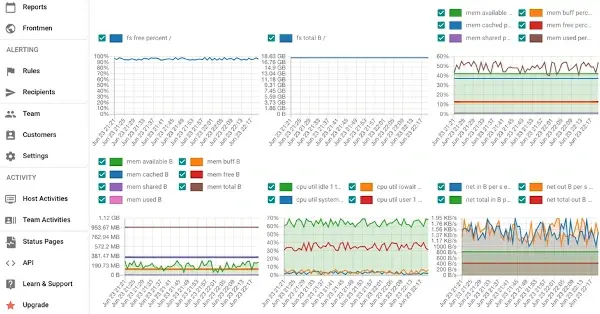 Not taking care of a server can lead to devastating results, so it is important to use server monitoring tools. There are five main ways a server monitoring system helps a user:
1. Tracking
A web server monitoring tool tracks the server's performance. Some of the most tracked server data include its health, status, and easy access for in-depth details.
2. Notifications and Alerts
A server sends an alert notification when it experiences a critical event, such as exceeding a baseline value. The alert notification enables the teams responsible for responding adequately and promptly.
3. Overview
A server-monitoring tool provides a detailed summary of all that happens within the server. A clear picture lets you know how the entire system works.
4. Historical Background
Monitoring tools provide access to data and a broad summary of current events. Analyzing data from the past can help company agents to discover the source of the problem.
5. Future Performance
Server monitoring tools provide the information you need to ensure your server's good performance in the long run. They provide the necessary analysis to optimize the server network, including overviews, alerts, and historical data.
Now that you know how server monitoring tools can help you let's look at the types of tools at your disposal.
Types of Server Monitoring Tools Available
A well-established network of computers and other devices is not enough to handle a company's infrastructure without a powerful server to handle the transactions. However, close monitoring of the servers is essential to ensure their efficiency and security.
Server software monitoring tools differ from company to company, but generally, they fall under two categories.
Cloud-Based
Cloud-based tools are software-as-a-service (SaaS) based monitoring systems set up and run online. The installation process for the software is fairly fast, and It takes place online rather than on the network.
The system is quite flexible. However, the main disadvantage is that users get limited control. They do not have many customization options.
On-Premise
The software is installed on the user's hardware. The installation is also an investment that requires a large sum of capital.
On-premise tools also provide users with a plan that gives them more support and control over their data storage options. One of the disadvantages is that the tool requires consistent maintenance.
Your choice of server monitoring tools should depend on the features you're looking for and your budget.
Setup for Server Monitoring: Best Practices and Checks
Different institutions have varying means of monitoring servers and getting the best out of the system for the users. The key practices and checks to consider when setting up server monitoring for best practices and checks are.
1. Hardware Tolerance Levels
Any system should have a baseline range of values determining whether it works properly. When dealing with hardware, you should track metrics like;
CPU usage
RAM usage
Memory Consumption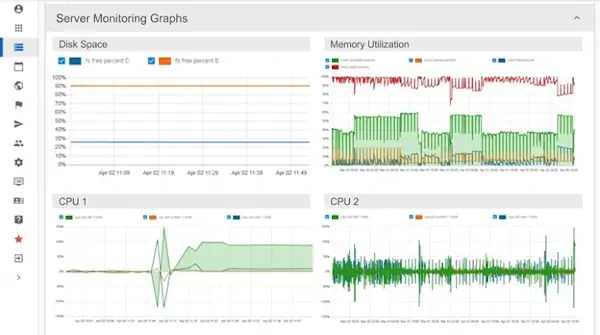 Have a range of baseline values that the system keeps track of. In case of any spikes, the system should send an alert. These indicators are critical to the smooth running of processes within the server. Users should keep a close eye on them regularly.
2. Service Checks
Any server comes with its own set of services. It is essential to look out for specific features. You should consider features for protection, problem detection, storage capacities, and recovery processes.
It is important to check whether these are working well. Users can also have customized checks to ensure monitoring systems are efficient.
3. Monitoring Software Failure
Many issues can come up on your server. Your monitoring system can help you keep track of them.
A real-time monitoring system is an excellent place to start. If there is a problem that the system detects, it will send an alert. It also makes solving problems categorized depending on their type and urgency easier.
Sometimes servers get inaccessible from the outside, or your database server goes down. It is essential to get alerted and address the issues that caused the downtime. Keeping your uptime as high as possible is one of the keys to flawless online business.
How Often Should You Examine Server Monitoring Reports?
Company network sizes differ. Irrespective of the size of your network, though, you should schedule frequent checks to analyze the logs from the servers. It is easy to accomplish this because server monitoring tools can work 24/7. A period of 30 to 90 days is an acceptable duration between analyses.
A good time to review the reports is when an alert comes through the monitoring tools. Such alerts may come before the scheduled time for the analysis. It's important to go through the system to determine the source of the problem.
In addition to the monthly or quarterly report analyses, you should also conduct a yearly check-up.
Wrapping Up
Server monitoring is necessary for any company that shares information among teams via a network. Nowadays, that's almost every company. Monitoring tools help ensure the server's health and are critical to security.
Before investing in a server monitoring tool, know the available options in the market. Understand, too, which ones meet the specific company's needs. Don't forget checks and practices to help you get the best out of the monitoring tools.
Check the logs and reports frequently to avoid unpleasant surprises. The key is to deal with issues as early as possible and make plans to promote the smooth running of server systems. That helps ensure the smooth running of the business, too.
Server monitoring is an investment with immense benefits to the users, providing long-term solutions. With the help of monitoring tools, company agents can assess the servers' health and deal with any underlying issues timely.