Page 30
Posted on June 4th, 2013 by Boyana Peeva in
Tech
,
Guides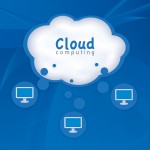 In an age when digital file-sharing has become the norm among businesses and individuals alike, it's easy to get swept away with catchphrases like "cloud computing" and "file hosting." These buzzwords often get people excited about products they don't fully understand. Many people assume that file hosting and cloud services are interchangeable; what they don't realize is that each comes with a set of pros and cons, and each differs in a few key ways. The following guide outlines the benefits and drawbacks to file hosting services and cloud storage networks.
File Hosting vs. "The Cloud"
For starters, file hosting services provide a broad range of services to businesses, including building an intranet and managing an overall internal network. These services have existed for decades, ever since businesses turned to the Internet for storage solutions and project management. Conversely, cloud computing is a relatively new phenomenon that many traditional hosting services claim as their own. In reality, cloud computing has an even broader scope, meaning that it connects with all aspects of a company's software and computing to provide file sharing across a huge spectrum. If people think of a cloud as a literal cloud or nebulous entity, it will help them understand the difference. File hosting is more localized and focused on an internal basis of getting everyone in an office complex on the same page. Cloud computing goes beyond this.
Read more...