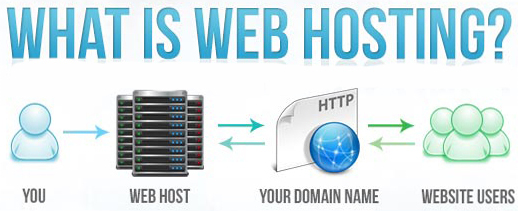 If you are wondering what is web hosting? And how does it work? Which companies are best for providing web host services? Then, this is the right article to study. It covers everything you need to know about web hosting.
Web hosting can be compared to a house which has two things.
A specific address.
The land where a house is built.
Same is the case with web hosting. All websites must have a domain name and web hosting. Domain works as the house address whereas the web hosting is the land where the house is built. The web sites are found by using DNS.
What actually is Web Hosting?!
Web hosting is an administration that enables associations and people to post a site or website page onto the Internet. It is a business that gives the innovations and administrations required for the site or site page to be seen on the Internet. Web hosting is a need for any site. It is the physical area of your site on the Internet, an online storage that saves the data, pictures, video, and the like. When the users want to connect to your website, they just need to type the website address or domain into the search bar. The user's computer will get connected to your server and your website will be opened to them.
How do Web Wosting Servces work?
Web host is an organization that leases their administrations and advancements to have sites on the web. Once it has your site, clients can get to it by writing in your web address in their internet browser or search bar.
Choosing right Web Hosting Package
If you want to choose the right web hosting package then you should ask the following questions from yourself:
What kind of website do you intend to host online? Is it a blog? A business site?! Educational site?! Or a portal?
What are the objectives or goals of your website?
How fast do you want your online business to expand?
How much support do you need?
These questions will help you in deciding on the storage space, the bandwidth, and the amount of money needed to be spent on it.
Types of Web hosting
There are several types of web hosting. Here is the list you need to know:
Shared hosting
It is best for the beginners and exactly the same as the name depicts. Your site is located on the same server as the other websites. The number of websites depends upon the setup. Some of the most famous hosts for this are Bluehost and InMotion Hosting.
VPS hosting:
VPS stands for Virtual Private Server. It is the well-balanced one in comparison to others. The setup of VPS hosting is different from that of shared hosting but has a few things in common, i.e. all sites in VPS share one server. It is more reliable as compared to shared hosting.
Dedicated hosting:
The server in dedicated hosting is for you totally. This type of hosting comes with flexibility. Since you have the hold of everything you can bring changes according to your needs. But dedicated hosting is very costly.
Cloud hosting:
Cloud hosting is same as the VPS hosting; you just have your site on a virtual machine. But instead of one physical server, your site is sharing the whole network of computers.
Companies that offer best web hosting services
Here is the list of few companies that are considered to be the best in providing web hosting services:
Ranked as one of the top and best hosting services which are appreciated for offering free backups and SSH access to the users. They also offered 90 days money back guarantee. The loyal customer discount has made it more appealing to the customers. The free SSL and Malware detection is making it special in comparison to other web hosting companies. It is highly recommended for everyone.
Hostgator is a company that provides full service hosting that can cater to every need of the clients. It is preferred for up to date monitoring and regular backups, along with free cPanel or Plesk. It has 45-day money back guarantee. SSH is available to the customers, and direct IP address can also be purchased. It has a solution to your every problem.
The low price of ipage made it pretty noticeable among the customers. It offers 24/7 telephone support and a 30-day money back guarantee along with the extremely low price. It is recommended for those who are following a budget.
The company has a wide range of offerings for their customers. The outstanding feature it has to provide is a 180-day money back guarantee and it removed all of the risks from any hosting experience. It is the best one.
A good team working to meet the needs of their clients since 2012! Hostiserver is a great hosting company in general; the services are up to date and meeting the clients' hopes. The servers work efficiently, and if there's a problem they fix everything for their customers. The services are offered at a very reasonable price which includes VPS hosting, backups and dedicated server etc. the goal of hostiserver.com is to satisfy the needs of their customers. Hostiserver.com is highly recommended if you want the best hosting services at a reasonable price. Go for it!
For every website, web hosting is an important part and to run the website smoothly and easily, a good server is needed. Some factors should be kept in mind while going for a web hosting service which are the price, the speed, time, support and location etc. This article suffices to questions regarding web hosting. The list of companies that are offering the best hosting services is also given. This article is helpful in many ways to those who are looking for web hosting.