Press Room
>
Latest News
>
News Item
November 23, 2007
Sears.com website closed for business on Black Friday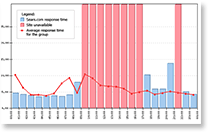 Sears.com Outage
Sears.com website was completely closed for online shoppers on Black Friday. Immediately after our system detected the problem shortly after 9am EST, the website posted a message on its front page explaining that it is "temporarily experiencing high traffic volume" and removed it at 4:30pm. Later the same day, at 9pm, the message appeared again, this time only for 45 minutes.
Kmart.com, which is also run by Sears Brands LLC, had the same problems, at the same times, but apparently the traffic there was not so heavy, and we were able to complete successfully some of our test transactions through out the day.
Sears.com was again one of the worst performers during the 2006 Holiday Shopping Season and this shopping season does not start well for them again. We will be posting more results from our
2007 Holiday Retail Performance and Uptime Report
.